LockAlarm
Secures and Alarms any large items from theft in seconds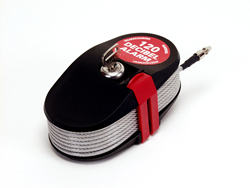 The Lock/Alarm is an innovative, portable device suitable for securing virtually any large items from theft. The Lock/Alarm has an ear piercing siren that helps to deter potential thieves. When an attempt is made to cut through its ultra-hard steel cable, or attack the main lock unit, the alarm starts screaming!
Compact and simple to use, the Lock/Alarm can provide 24 hour protection for valuables left unattended outside or stored in a shed, garage or outbuilding. It is ideal for when you are on the move for securing equipment while in transit on vehicle roof racks, in the back of trucks or on trailers.
Suitable for use in all weather and environments the Lock/Alarm can be used freestanding or anchored to a wall, post, side of an RV, or fixed directly onto bicycles or machinery using the brackets supplied.
The Lock/Alarm weighs just 1.1 pounds (0.5kg) and is available in 8 foot and 15 foot cable lengths. When not in use the plastic coated cable winds neatly around the main unit and clamps tight. It requires a high quality 9 volt battery which fits inside a tamper-proof internal compartment and which will last for many months of use.
Ideal to secure: Bicycles, boats, camping & RV equipment, garden furniture, lawnmowers, bicycles, motorcycles, power tools, sports gear, trailers, etc.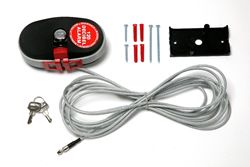 ---
---
| | | | |
| --- | --- | --- | --- |
| RO-1411 | Heavy Duty Lock Alarm 28 inch (.7m), 3/4 inch (20mm) diameter hard steel cable w/vinyl sleeve. High security key and lock cylinder. Suitable for indoor & outdoor use. Battery operated 2 AAA batteries (not included) | $39.99 USD | |
Safety
Safe T Plus Steering Controls
Strobe Lights
Caution: Wide Turn
Personal Strobe Light
LZ kit
Security
Physical Mobile Radio Security
Radio Cage
Slide Lock
King Pin Lock
Pintle Hitch Lock
Skid Lock
PortaSafe
LockAlarm
Aerial Work Platform
Control Module Security Lock
Maintenance
Non Contact Thermometer
Universal Preheaters
Professional Debris Picker
EZ Reacher®
About ETIP, Inc.
Press / Media
ETIP Store on ebay
ETIP Videos
About ETIP, Inc.
Freight / Shipping
Contact Us
We reserve the right to change product specifications at any time without notice and without obligation.
---
Veteran Owned
Small Business
---