+1 630-966-8992 | Contact Us
Safe T Plus Steering Controls | Strobe Lights | Personal Strobe Light | LZ kit | Physical Mobile Radio Security | Radio Cage | Slide Lock | King Pin Lock | Pintle Hitch Lock | Skid Lock | PortaSafe | Aerial Work Platform Control Module Security Lock | Universal Preheaters | Professional Debris Picker | EZ Reacher® | YouTube Channel
---
Mini Strobe and Halogen Light Bars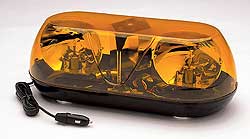 Halogen
Attention getting 135 RPM rotators (G1 Series), or 175 RPM rotators (G2 Series).
Brilliant diamond mirror provides a total of 540 FPM (G1 Series) or 700 FPM (G2 Series).
High Intensity 55 watt H1 bulbs (12 Volt Version).
Large, precision engineered, wide-angle reflectors provide maximum intensity at all times.
Quiet and reliable double ball bearing motor assembly with 3 year full factory warranty.
Multi-color configurations available with clear outer dome and color inner filter kits.
Standard 12 VDC (24 VDC available upon request).
Strobe
Choose between models containing either two Class 1, self-contained strobe beacons (G5 Series), or two remote strobe heads and a built-in high intensity remote 40 watt output strobe power supply (G7 Series)
Self-contained beacon version offers our highly effective QuintFlash™ as well as a full sized diamond mirror. Each beacon provides 22-watts output, 19 joules and 72 FPM (288 FPM total).
Built-in remote power supply version offers our attention getting, alternating CometFlash™ and a 1/2 sized diamond mirror.
The built-in strobe power supply provides 40-watts output, 16 joules and 75 FPM (300 FPM total).
Hi/Low intensity control, standard.
Strobe models are 12-24 VDC.
Multi-color configuration with clear outer dome and color inner domes.
2 year warranty on power supply and 6 month warranty on strobe flash tube.
Strobe Lightbar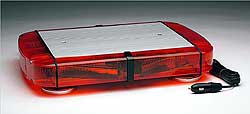 Sleek, aerodynamic profile, with state- of-the-art optics in our lowest profile lightbar.
Only 2-1/2 inches high and 17-1/4 inches or 22 inches in length.
Available in magnetic or permanent mount.
Optional take downs, alley lights and single flashers for 22 inches model only.
Extruded aluminum 2 piece chassis will not sag, warp or bend.
5 year warranty on power supply, 2 year warranty on strobe tubes.
---
About ETIP, Inc.

Veteran Owned Small Business
Press / Media | ETIP Store on ebay | ETIP Videos | About ETIP, Inc. | Freight / Shipping | Contact Us
We reserve the right to change product specifications at any time without notice and without obligation.
Copyright © 1998-2018 • www.etipinc.com • All Rights Reserved • Terms of Use
E TIP, Inc. • P.O. Box 83 • North Aurora, IL 60542 • 630-966-8992 • Fax: 630-801-9569
We accept Visa, Master Card, PayPal, purchase orders and credit terms (for qualified applicants).