+1 630-966-8992 | Contact Us
Safe T Plus Steering Controls | Strobe Lights | Personal Strobe Light | LZ kit | Physical Mobile Radio Security | Radio Cage | Slide Lock | King Pin Lock | Pintle Hitch Lock | Skid Lock | PortaSafe | Aerial Work Platform Control Module Security Lock | Universal Preheaters | Professional Debris Picker | EZ Reacher® | YouTube Channel
---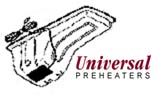 Application Chart
Equipment

MODELS

100LWD

125HWD

300LWD

300HWD

600LWD

600HWD

1100LWD

1100HWD

Size

2" x 5" x .050"

3" dia. x .050"

4.25" x 4.75" x.050"

4" x 4.5" x .050"

5.5" x 6.875" x .050"

5" x 7" x .050"

6.5" x 10.75" x .050"

6.5" x 10.75" x .050"

Voltage

120 Volt

120 Volt

120 Volt

120 Volt

120 Volt

120 Volt

120 Volt

120 Volt

Wattage

50 W

92 W

100 W

234 W

190 W

455 W

350 Watt

900 W

Amperage

0.4 Amp

0.8 Amp

1.2 Amp

2.0 Amp

1.6 Amp

4.0 Amp

2.9 Amp

7.5 Amp

Equipment

Capacity

Diesel / Gas Engine

1/2 Qts
0.8/1.9 L

2/4 Qts
1.9/3.8 L

3/5 Qts 2.8/4.7 L

4/10 Qts
3.8/9.4 L

7/15 Qts
7.3/14.6 L

11/22 Qts
10.4/20 L

15/34 Ats
14/32 L

22/48 Qts
20.8/45.3 L

Automatic Transmission

1/2 Qts
0.8/1.9 L

2/5 Qts
1.9/4.7 L

3.6/7.2 Qts
3.4/7 L

6/12 Qts
5.6/11.3 L

8/12 Qts
7.9/11.9 L

12/18 Qts
11.3/17 L

12.6/42 Qts
11.9/39.7 L

18/60 Qts
17/56.6 L

Manual Transmission

1/2 Qts
0.8/1.9 L

2/5 Qts
1.9/4.7 L

3.5/8.4 Qts
3.3/6 L

5/12 Qts
4.5/11.3 L

8/20 Qts
7.9/18.5 L

12/28 Qts
11.3/26.4 L

20/56 Qts
18.9/53 L

28/80 Qts
26.6/75.5 L

Gear Box

1/2 Qts
0.8/1.9 L


2/5 Qts
1.9/4.7 L


3/8.4 Qts
2.8/6 L

4/12 Qts
3.8/11.4 L

8/20 Qts
7.9/26.5 L

12/28 Qts
11.4/26.5 L

20/56 Qts
18.9/53 L

28/90 Qts
26.5/75.7 L

Hydraulic Reservoir

2/7 Qts
1.9/6.6 L

4/15 Qts
3.8/14.2 L

10.5/28 Qts
9.8/26.5 L

15/40 Qts
14.2/37.7 L

7/70 Qts
6.6/66 L

40/100 Qts
37.7/94.3 L

70/140 Qts
66/132 L

100/200 Qts
94.3/188.6 L

Hydrostatics

1/2 Qts
0.8/1.9 L

2/4 Qts
1.9/3.8 L

3/7 Qts
2.8/6.6 L

4/10 Qts
3.8/9.4 L

7/11 Qts
6.6/18.5 L

10/16 Qts
9.4/15 L

10/21 Qts
9.5/19.9 L

14/30 Qts
13.2/28.3 L

Diesel Fuel Tank

1/5 Gal
3.8/18.9 L

5/15 Gal
18.9/56.8 L

10.5/35 Gal
39.7/132.5 L

15/50 Gal
56.8/189 L

35/70 Qts
132.265 L

50/100 Gal
189/379 L

70/140 Gal
265/530 L

100/200 Gal
379/757 L
*NOTE: When used on diesel fuel tanks, those heaters should not be plugged in with less than 50% of the recommended capacity in the tank being heated.
Universal LWD & HWD Preheater kits include a 7 foot, three conductor electrical cord with grounded plug, flexible ceramic insulation pad and RTV Adhesive. The 100LWD & LWD 12vdc Preheaters come with pigtail electrical leads, only. Ceramic Insulation Pads and RTV Adhesive are available as options for the 100LWD & LWD 12vdc models.
---
About ETIP, Inc.

Veteran Owned Small Business
Press / Media | ETIP Store on ebay | ETIP Videos | About ETIP, Inc. | Freight / Shipping | Contact Us
We reserve the right to change product specifications at any time without notice and without obligation.
Copyright © 1998-2018 • www.etipinc.com • All Rights Reserved • Terms of Use
E TIP, Inc. • P.O. Box 83 • North Aurora, IL 60542 • 630-966-8992 • Fax: 630-801-9569
We accept Visa, Master Card, PayPal, purchase orders and credit terms (for qualified applicants).