Wide Turn - Long Load Safety Light
Increase safety and visibility for long load hauling!
Originally developed for telephone pole transports.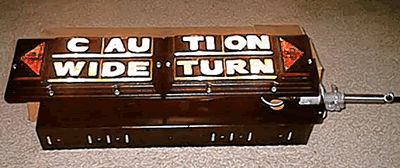 The Wide Turn - Long Load Safety Light displays a brilliantly lighted warning message continuously when in operation and has been designed for protecting the transport of telephone poles. Mounted on the top and at the back of a wide turn - long load, the highly visible warning for following vehicles also signals turns with left & right turn signals. With minor modifications the light can be mounted on the bottom of the load as well.
The package includes a round 4 pin Cole Hersee socket #1232 and plug #1253. Uses 10 commonly available automotive bulb #1003. 12 volt dc, it draws 7.2 amp for the message area and 1.2 amp for left & right turn arrows. It can be operated on 110 volt ac if a 12 volt dc converter is used. Instructions included.
Weighs 10 lb. and is 25" long X 8" high X 6" thick. This is a limited supply offer. Price each: $99.95. Freight free in the Continental U.S.
Prices are subject to change without notice and are subject to all applicable taxes. Availability and delivery is subject to wars, strikes and other events beyond our control including availability on limited supply offers that are subject to prior sale. Payment to be in U.S. Funds only. Checks are to be paid through/to a U.S. bank. Terms are Prepay. Master Card and Visa accepted.
Safety
Safe T Plus Steering Controls
Strobe Lights
Caution: Wide Turn
Personal Strobe Light
LZ kit
Security
Physical Mobile Radio Security
Radio Cage
Slide Lock
King Pin Lock
Pintle Hitch Lock
Skid Lock
PortaSafe
LockAlarm
Aerial Work Platform
Control Module Security Lock
Maintenance
Non Contact Thermometer
Universal Preheaters
Professional Debris Picker
EZ Reacher®
About ETIP, Inc.
Press / Media
ETIP Store on ebay
ETIP Videos
About ETIP, Inc.
Freight / Shipping
Contact Us
We reserve the right to change product specifications at any time without notice and without obligation.
---
Veteran Owned
Small Business
---